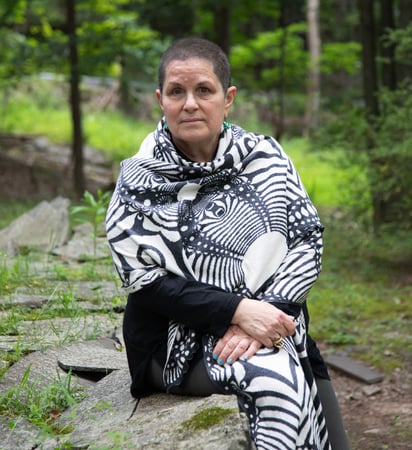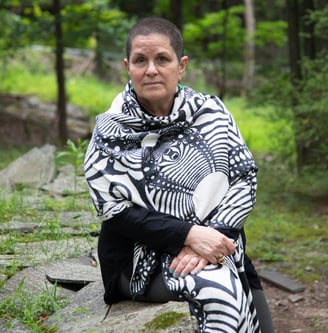 Photography by Don Freeman
BIO
Raghubir Kintisch (b. 1955, New York, NY) is a multidisciplinary artist whose work explores the confluence of spiritual and creative practices. By working with the cumulative transformative power of fragments and abstractions, this work, which Kintisch refers to as "mystical abstraction", relies on the development of a personal iconography which is used as a vehicle for elevation. Their richly colored and textural oil paintings on paper are based on sketches made by using collaging and patterning techniques exploring alternative universes, the role of the artist as shaman, and the power of illusion and spectacle in transformative inner work.
Kintisch earned a BFA in Painting from Rhode Island School of Design in Providence, RI in 1976, and an MFA in Social Practice from Otis College of Art and Design in Los Angeles, CA in 2017. The artist has participated in exhibitions at La Foret Museum, Tokyo, Japan; LAXART, Hollywood, LA; Keystone Art Gallery, LA; Robert Berman Gallery, LA; Mary Karnowsky Gallery, LA; Armory Center for the Arts, Pasadena; Winslow Garage, LA; Proxy Gallery, LA; MutMuz Gallery, LA; Angels Gate Cultural Center Gallery, San Pedro, LAUNCH Gallery in LA, and Tryst Art Fair in Torrence; among others.
In 2017-2018, they were part of a long-running group show at the Museum of Modern Art in N.Y. entitled Club 57: Film, Performance, and Art in the East Village, 1978– 1983. In the summer of 2023, Kintisch was a Byrdcliffe Cottage Artist in Residence and a fundee of the Pollack-Krasner Foundation. In 2022, they were a Byrdcliffe Communal Artist-in-Residence for visual arts and in 2021, a recipient of a Silver Sun Foundation Residency through The Secret City - also in Woodstock, N.Y. Their most recent work consists of oil paintings on paper, mixed media collage, and tonal paintings in India ink. These works depict through texture, color, and reflected geometry and pattern, the mental terrain of the meditative state. Kintisch currently lives and works in Los Angeles, CA.
ARTIST STATEMENT
My work, which is primarily painting in oil on heavy-duty watercolor paper, is an ongoing investigation into the role of artist as medium/shaman, trance state awareness, and the power of illusion and spectacle in transformative inner work. I refer to my work as "mystical abstraction" and I use pattern and repetition to invoke a meditative or trance response.
Repetitive forms and color relationships produce an alternative universe greater than the sum of its parts. I cut up my own pre-painted imagery and collage them together and this shifts my perception, giving me access to a new realm of accidental abstraction.
Working from these collages as sketches further transforms the source imagery and creates new visual relationships along with further simplification and distortion. My work is richly colored and textured and has a dry, matte finish. This is due to the direct absorption of the paint into the paper by my predominant use of palette knives without additional medium..
Working in this very physical way, with repetitive motifs and mark making, and using devotional iconography as a starting point, stems from my long-term interest in the confluence of spiritual and creative practices. It is no surprise to me that the construction, deconstruction, and reconstruction of images closely resembles the inner processes of spiritual transformation. I consider my creative practice to be an interactive form of energy mapping (and the dialogue that occurs in response to it) because elevating the human spirit has always been, and continues to be, the driving force behind my work.
©Raghubir Kintisch all rights reserved